Pesso Boyden Practitioner Curriculum – Foundation Training
The Pesso Boyden Foundation Training is part-time and lasts one year
The foundation year consists of 9 days of formal training, in three 3-day modules, plus 3 self-organised practice days with an 'intervision group' of fellow trainees, along with individual study and practice.
Much of the teaching is in the form of 'live supervision' and demonstrations, interspersed with formal lectures.
Trainees are also required to make a commitment to their own personal PBSP therapy as a client.  This is in the form of (no less than) 3 'structures' per year, as a client, outside of the training programme.
This foundation year is a pre-requisite for entrance into the full training programme.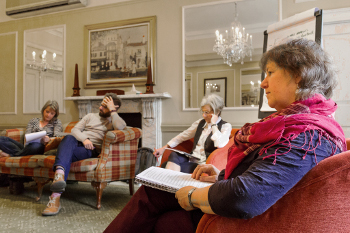 ---
Who might consider taking Foundation Training
Anyone wishing to expand their range as a psychotherapist, counsellor, or coach, by integrating bodily aspects into their client work, whether working individually or in a group setting.  You may subscribe to the first year of the PBSP training as a free-standing course of three modules, without choosing to proceed through the further six modules that make up the full nine modules of the complete training programme.
Students will be expected to study the relevant training literature, to participate in local inter-vision groups and to bring in therapeutic (or coaching) client work for supervision.
For those wishing to take the Complete Pesso Boyden Practitioners Training (second and third year) the first year will be preparatory.
The three year programme, consisting of nine modules, is the route towards becoming a recognised PBSP Practitioner or Psychotherapist of the Pesso Boyden Training Institute UK.
Admission to the second and third years will be in accordance with the requirements of the Pesso Boyden Training Institute (UK).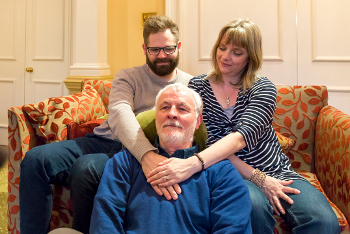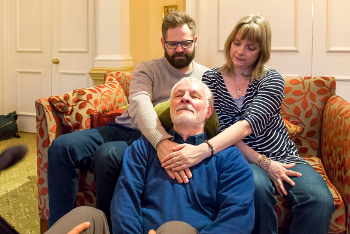 ---
The training is practice-oriented:
Demonstrations will support your understanding of theoretical lectures
New interventions and exercises will help you on both an experiential and a technical level
Practice in duos and subgroups of colleagues will enlarge your experience as a therapist
Supervision by the trainers, case-discussions and homework in intervision groups will inform the evaluation of your learning process
What are the goals of the foundation training?
Become competent in the basic principles of PBSP
Understand the dinstinctive PBSP approach to the five Basic Needs, and their defiicts
Become proficient in attuning to clients through the unique PBSP skill of microtracking
Explore a revolutionary approach to the body in psychotherapy and coaching
Expand understanding of the non-verbal aspects of commu­nication
---
Learning Outcomes on the Completion of Foundation Training
You will:
gain tools and techniques that give you immediate access to the emotional basis of  the dialogue with your client
harvest your own inner resources through experiential opportunities and client structures (sessions)
attune to your own bodily information as a source of therapeutic knowledge about what is happening within the client
awaken and stimulate the observing and integrating part of the client's ego (Pilot) which fuels self-awareness
enable clients to understand the meaning of bodily sensations and impulses, such as voice-modulation, facial expression, body-posture and movement
practice bespoke PBSP exercises that develop self awareness, and build the relational alliance
---
Training & Study requirements beyond the scheduled training days
This study is not assessed through written assignments but through ongoing assessment of participants' practical understanding of PBSP theory, demonstrated in the way they work with the approach.
Knowledge and understanding of PBSP theory and its principles are underpinned by personal study.
Trainees will be required to read and report on key PBSP texts and articles between modules.
Participants apply and deepen their mastery of the practical skills through peer Intervision, scheduled with fellow group members between training modules.
Trainees are also required to make a commitment to their own personal PBSP therapy as a client.  This is in the form of (no less than) 3 'structures' per year, as a client, outside of the training programme.
As participants begin to practice PBSP skills more fully they will be expected to arrange supervision for their PBSP practice.
---
Indicative Curriculum
Methods throughout each year include theory inputs and demonstration of structures by trainers, trainee skill practice, live supervision, reading, presentations by trainees and personal structures.
Foundation Training in Pesso Boyden System Psychomotor (PBSP): Year 1
The three modules of foundation training introduce participants to PBSP core principles and practical skills
Foundation Training Overview: The Body and the Journey of the Self
Developing Consciousness: Ego and Soul: Module 1
Life goals and basic needs
Interactive interventions that truly fit
Witnessing the true self
The Body Tells the Story of the Soul: Module 2
Tracking micro-emotions and beliefs
Ideal parents: how and why
Development of consciousness
The Ego as Midwife to Birthing the True Self: Module 3
Omnipotence and limits
Unifying internal and external polarities
The unique PBSP lens on the principles of projection and transference
---
Have you got a Question?
For further details on the training curriculum or any questions that you might have in ralation to applying for or participating in PBSP training, contact Sally Potter, Training Co-ordinator, using the contact form or by email
How to Apply – If you are considering attending the PBSP training, either for the Foundation Training or the Full Training, then please complete this application form.